Global economy blues
Gazette exclusives
Drill Sergeant loses it
(YouTube sensation!)
Handy sites
About.com (Political Humor)
Alexa
Alternet
Bartcop
Borowitz Report
BuzzFlash
BuzzMachine
Fark
Dictionary.com
Glossy News
Google
Media Matters
New York Times
ThePoliticalCarnival
Romenesko/Poynter
Satire Awards
Word.com
« Humor Gazette buys The Daily Palin for $315M | Page One | The trouble with Valentine's Day »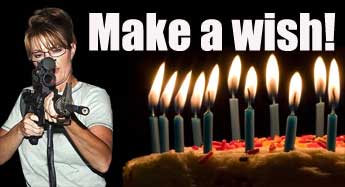 Happy birthday, Sarah Palin
Baby Sarah was born Feb. 11, 1964, in a nondescript manger in Sandpoint, Idaho, but moved to Alaska just six weeks later when her parents fled the Gem State to escape the ever-present threat of socialism.
READ MORE:
"(Real) America by Heart: Reflections on
(Exploiting) Family, Faith and Flag (For Fun & Profit)"
Posted on February 11, 2011 9:44 AM | Permalink
---
Previous post: Humor Gazette buys The Daily Palin for $315M.
Next post: The trouble with Valentine's Day.