Global economy blues
Gazette exclusives
Drill Sergeant loses it
(YouTube sensation!)
Handy sites
About.com (Political Humor)
Alexa
Alternet
Bartcop
Borowitz Report
BuzzFlash
BuzzMachine
Fark
Dictionary.com
Glossy News
Google
Media Matters
New York Times
ThePoliticalCarnival
Romenesko/Poynter
Satire Awards
Word.com
« Dear Sarah: Palin advice column | Page One | 50 Cent introduces 50 Scent »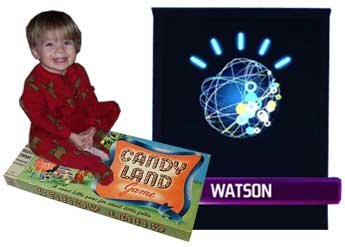 Stupid brat, 3, destroys
Watson supercomputer
at Candy Land
The Watson supercomputer that dominated its human competition on the quiz show "Jeopardy" has been humiliated by dimwitted 3-year-old Massachusetts boy.
Locked in an epic game of Candy Land, little Jimmy Murphy was losing badly to the IBM supercomputer when he employed a uniquely human strategy -- a temper tantrum -- to vanquish his soulless rival. (MORE)
Posted on March 18, 2011 9:01 AM | Permalink
---
Previous post: Dear Sarah: Palin advice column.
Next post: 50 Cent introduces 50 Scent.