Global economy blues
Gazette exclusives
Drill Sergeant loses it
(YouTube sensation!)
Handy sites
About.com (Political Humor)
Alexa
Alternet
Bartcop
Borowitz Report
BuzzFlash
BuzzMachine
Fark
Dictionary.com
Glossy News
Google
Media Matters
New York Times
ThePoliticalCarnival
Romenesko/Poynter
Satire Awards
Word.com
« Speed Racer busted for speeding | Page One | Michele Bachmann's Guide to the American Revolution »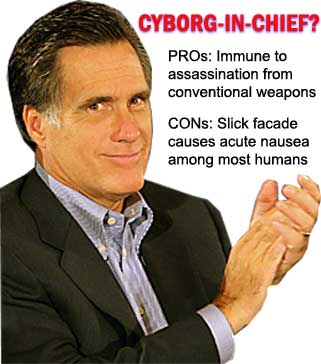 Romney denies robot allegation

Republican presidential hopeful Mitt Romney is denying allegations that he is a robotic humanoid with Teflon hair made in China by the Koch brothers.
Unlike traditional human politicians, the Romney is wired to calibrate its positions based solely on political expediency -- suffering no moral compunction about switching from a pro-choice stance to gain election as governor of Massachusetts to fervently pro-life as the front-running Republican cyborg in the 2012 presidential race.
The strapping, kevlar politician -- whose "face" is said to be molded from a top-secret, space-age polymer -- has been dogged by allegations that he is a plastic opportunist ever since a 2007 Concord Monitor editorial branded him a raging, hypocritical "phony."
But experts say it'll take more than a little Romneycare scandal to derail the Mitt, which has carved out a front-runner spot in the 2012 race by disguising itself as a pandering corporate confidence man.

# # #
Romney should not be the next president (Concord Monitor, Dec. 22, 2007)
Mitt has a dream (Humor Gazette, Dec. 30, 2007)

# # #
Study shows alcohol effective in combating sobriety
Libyan protesters demand resignation of Gadhafi, Khadafi, Qadhafi and Khaddaffi

Posted on March 10, 2011 12:07 AM | Permalink
---
Previous post: Speed Racer busted for speeding.
Next post: Michele Bachmann's Guide to the American Revolution.