« Rolling Stones exclusive! Plus, God on Newsweek | Page One | A Flag Divided »
America riddled with Political Irony
Keen observers of the American politial scene understand that it is rife with irony -- not to mention malfeasance, mendacity and mind-numbing skullduggery.
Washington is awash in legalized bribery, flip-floppery and flaming hypocrisy -- churning out a surplus of oxymorons, regular morons and stone-cold, bought-and-paid-for, bamboozling-the-public morons.
But back to the irony... The Humor Gazette has learned that there is an excellent website whose mission is to help cut through the chaos -- PoliticalIrony.com.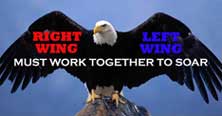 This is a website so astute that this week it featured a high-profile plug for the Humor Gazette, featuring our regal bald eagle boldly calling out our nation's leaders. Please stop by for a visit and tell 'em the Humor Gazette sent you.
Thank you, also, to California-based Humor Times -- an old-school, new-media humor publication that "lampoons lame politicians" while featuring the best in editorial cartoons, columns and "fake news better than Fox's."

Posted on May 25, 2012 5:39 AM | Permalink
---
Previous post: Rolling Stones exclusive! Plus, God on Newsweek.
Next post: A Flag Divided.