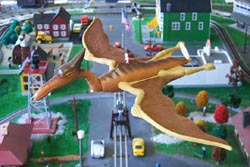 U.S. at risk of attack by giant pterodactyl
The U.S. has received credible "chatter" that al-Qaida may or may not try to attack the U.S. within the next 12 to 1,200 days, perhaps using a plane, a train, acid rain … or worse, a giant man-eating pterodactyl.
Justice Department wacko John Ashcroft said he has obtained documents showing that Osama bin Laden may have manufactured a genetically engineered Super Terror-Dactyl using prehistoric DNA from Nigeria. Ashcroft denied he was making up the pterodactyl alert to distract Americans from President Bush's inept handling of the war and his trouble using words to communicate. He declined to reveal the source of his information but said it definitely was not Ahmad Chalabi.
Possible targets may or may not include the Northeast, the West Coast, the South or the Midwest. Also at risk, said Ashcroft, is the town of Freedom, Wisconsin, "because the terrorists hate freedom."
Homeland Security Secretary Tom Ridge, who spends 8-12 hours a day deciding whether or not to keep the terror alert level at Yellow, said each pterodactyl warning must be evaluated individually and would not automatically result in naming a new terror color for people to be confused about.
When pressed, Ridge said he would definitely raise the threat level to Orange if the pterodactyl was breathing fire, and even Red if the beast was passing mustard gas.
Ridge said Americans should be 10-12% more vigilant, but added it is important to go about our daily lives in a guardedly carefree fashion. He said anyone uncertain about how to react to this new threat can call for a free pamphlet entitled "12 Ways to Not Get Blown Up By a Freedom-Hating Islamic Militant Douchebag."
Families can help children understand the threat of terrorism using Homeland Security-approved games like "Cops and Suicide Bombers," "Hide and Go Seek Weapons of Mass Destruction" and "Sy Hersch Sez." Secretary Ridge asked that anyone who spots a suspicious-looking pterodactyl call his hotline at 1-800-555-FEAR.
---
---
Bush pledges Democracy R Us for Iraq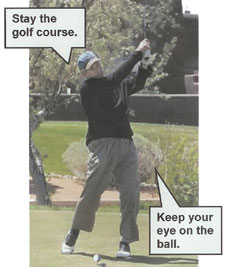 By John Breneman As the clock tick, tick, ticks toward the June 30 transfer of power to a pseudo-sovereign Iraq, President Bush laid out a five-point plan to boost his bum approval rating. Apart from some creative pronunciation of those pesky words "Abu Ghraib," the embattled CEO of Democracy R Us did not waver from reciting each word that had been written for him. (Good news about Abu, Bush aims to demolish the notorious torture house and Halliburton has stepped up to do the job for just $1.2 billion.)

Iraq's conversion to a Halliburton-based economy will be aided by a transitional Iraqi government comprised of guys who don't mind having a terrorist bull's eye painted on their headgear. National elections will come soon enough. But first it is vital to teach Iraqi politicians how to divert millions into their campaign war-chests and slime their opponents with negative ads. Presidential candidates will also need seminars on how to exploit family connections and use the Supreme Court to seize power. MORE