« Gibson's F-bomb cease-fire | Page One | Bush fails second doping test »
Romney apologizes for anti-tar baby rhetoric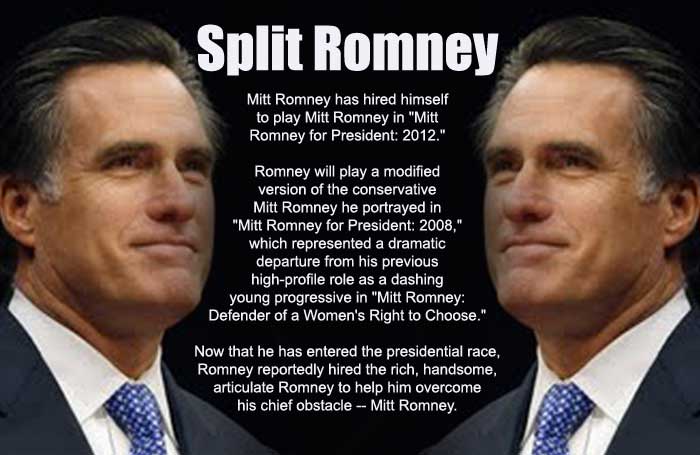 By John Breneman
Clarifying his politically sticky use of the term "tar baby" in a July 29 speech in Iowa, Gov. Mitt Romney said he had no idea the term was racially insensitive.
Romney issued a heartfelt apology to all tar babies, crack babies and test-tube babies, as well as the NAACP and the lesser-known NAATB.
He said he never meant to offend fans of the legendary Uncle Remus story about Brer Rabbit, Brer Fox and the Tar Baby by linking them to his state's $14.6 billion Big Dig highway black hole.
Meanwhile, aides have advised Romney that next time he needs a metaphor likening the bureaucratically grotesque, and now deadly Big Dig to a "sticky situation," he would be better off using a more PC term such as "duct-tape baby" or "epoxy baby."
Romney, widely regarded as one of the whitest white dudes of all-time, has been criticized as a clueless "blue blood" by local black leaders. He's also been called a "punk" by the rapper Tar Daddy.

Romney denied reports that he angrily declared, "Tar babies are responsible for all the wars in the world!" But polls show 81 percent of voters believe he WOULD eagerly make such a statement if he believed it would help him get to the White House.
Related stories:
Why "Tar Baby" Is Such a Sticky Phrase -- Aug. 1, 2006 (Time)

Romney: The next president -- March 29, 2006 (By Chris Elliott)

Posted on August 2, 2006 8:41 AM | Permalink
---
Previous post: Gibson's F-bomb cease-fire.
Next post: Bush fails second doping test.