« Saddam's hunger strike | Page One | Romney apologizes for anti-tar baby rhetoric »
Gibson agrees to F-bomb cease-fire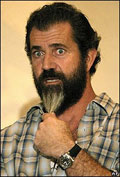 By John Breneman
Simmering tensions in a strife-torn region of Mel Gibson's brain erupted in violence on Friday, when the drunken Hollywood hatemonger renewed his offensive against Israel while peppering police with a barrage of F-bombs.
The Oscar winner and Hezbollah spokesman agreed to a cease-fire and apologized for soiling himself with anti-Semitic bile while being stopped for drunk driving in Malibu.
He issued a statement apologizing for being a "despicable" jackass and blaming his intense hatred of Jews on booze. Gibson assured fans that his obligatory rehab stint will not affect production of his new film, "Jews Are Responsible For All the Wars in the World."
He also announced plans to shoot "Lethal Weapon 5" in Israel, promising lots of explosions, side-splitting gratuitous violence and plenty of "collateral damage." Joe Pesci will play a wisecracking suicide bomber and Rene Russo is on board as Lt. Sugar Tits.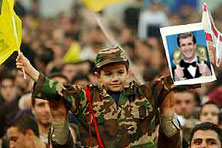 Sobriety tests revealed the actor's blood-asshole level was way over the limit, but Gibson reportedly will not be charged with lewd behavior for telling the bewildered cop, "I'm going to (bleep) you."
A spokesman denied reports that Stark Raving Mad Max tried to bribe his way out of the jam by offering the cops cameos in his epic about the final days of Adolf Hitler, "The Passion of the Fuhrer."
Gibson, who is set to play an Islamofascist Archie Bunker in the dark comedy "Allah in the Family," reportedly has several more religious-themed films in various stages of development, including "Schindler's Grocery List" (subtitled, with all dialogue spoken in an obscure 12th-century form of pig Latin) and the nonviolent Hindu comedy "Weekend at Gandhi's."
Related story:
Jesus Christ, box-office superstar, in ...
"Lethal Whippin' " (or "The Bashin' of the Christ") -- March 2, 2004
Posted on July 31, 2006 10:39 AM | Permalink
---
Previous post: Saddam's hunger strike.
Next post: Romney apologizes for anti-tar baby rhetoric.