« Friday 13th advisory | Page One | Airline safety tips »
And baby makes 3 (hundred million)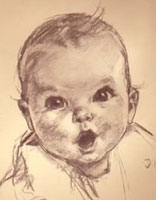 By John Breneman
A day-old Florida crackbaby has been identified as America's 300 millionth person, according to a wild guess by the U.S. Census Bureau.
Baby 300M (his real name is being withheld so his tiny soul is not crushed by overexposure to the media) clocked in at 7:46 a.m. Tuesday to win a crate of Gerber Spinach Puree, two kilos of Johnson's Baby Powder and a year's supply of Armani silk diapers.
Unconfirmed reports place his unofficial weight at 6-9 pounds. He reportedly has no health insurance.
Thousands of women in delivery rooms across the country waged a frantic competition to pop out the lucky little one, whose baby swag bag also includes Vanilla Coke, Chocolate Pepsi, Slim Jims, Twinkies, Doritos, Cheetos, Big Macs, Froot Loops, Nike booties, Grand Theft Auto and Mortal Kombat.
Related story:
Spears baby to be named T-Bone -- Sept. 12, 2006

---
Posted on October 18, 2006 8:40 AM | Permalink
---
Previous post: Friday 13th advisory.
Next post: Airline safety tips.