Global economy blues
Gazette exclusives
Drill Sergeant loses it
(YouTube sensation!)
Handy sites
About.com (Political Humor)
Alexa
Alternet
Bartcop
Borowitz Report
BuzzFlash
BuzzMachine
Fark
Dictionary.com
Glossy News
Google
Media Matters
New York Times
ThePoliticalCarnival
Romenesko/Poynter
Satire Awards
Word.com
« Pardon the turkey? | Page One | Britney's wardrobe dysfunction »

Black Friday cash registers jingle all the way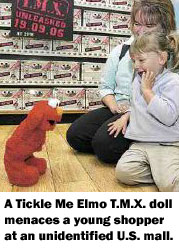 By John Breneman
Several people were hurt and 140 million Americans sustained an estimated $9 billion in damage to their bank accounts on Black Friday -- the coordinated pre-dawn assault on the nation's retailers also known as "Operation Shop and Awe."
The quest to obtain the most sophisticated video-game weapons technology led to scattered violence, with unconfirmed reports of Shiite shoppers targeting Sunni PlayStations in strife-torn Circuit City.
Experts say the post-Thanksgiving economic offensive marks the opening salvo in the annual campaign to spend billions on material goods for Jesus' birthday. Several wise men representing the National Retail Federation predict U.S. shoppers will fork over $457.4 billion before the Dec. 25 deadline.

This despite simmering tensions between the (cheapo 42-inch plasma TV) haves and have-nots, and heightened concern over how U.S. policies affect the availability of Tickle Me Elmo T.M.X.
Related story:
Bush eyes Santa for Cabinet post -- Dec. 13, 2005

Posted on November 27, 2006 11:07 AM | Permalink
---
Previous post: Pardon the turkey?.
Next post: Britney's wardrobe dysfunction.