« Operation Shop & Awe | Page One | Bush eyes Santa for Cabinet post »
Britney's wardrobe dysfunction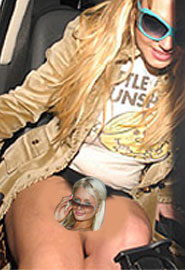 By John Breneman
Britney Spears is celebrating her much-anticipated divorce/comeback by treating herself to a rejuvenating Celebrity Slut Makeover at the fabulous Paris Hilton.
The luxury Hilton package includes low-rider limos perfect for the naughty new mom eager to score a tabloid splash by flashing her white-trash gash to the ever-present crotcherazzi.
The vagina-centric vacation comes with a penthouse suite at Hilton's notorious Tramp Tower and unlimited womb service. Hilton also offers complimentary pole-dancing lessons and pointers on how to eat a hamburger while humping a soapy car.
Spears also gets a free extra-small T-shirt for her 12-week-old baby. "Mommy flashed her (BLEEP!) with Paris Hilton and all I got was this lousy Gucci wifebeater."
A source close to Spears' clitoris said the pop tart loves Hilton's A-list parties and B-movie camp and that her September C-section isn't slowing her down one bit. ABC News reported: "In less than a week, cameras have captured Britney Spears' nether regions on four separate occasions."
One paparazzo claimed that when he blew up a shot of Spears' "junk" he was surprised to discover some lint and loose coins, a crumpled-up Cheetos bag and one of Hilton's fishnet stockings.
Etiquette expert Emily Post, after being revived, declined to comment but issued a statement reading, "Egad! Well, I never."
Stay tuned for breaking news on Britney's ongoing attempts to portray a kinder, genitaler image. And, now that pubic exposure is the sexy, hot new publicity strategy, other celebs said to be considering flashing their anatomy for the cameras include Star Jones, Martha Stewart and Hillary Clinton.
Related story:
Scent of a pop tart: Britney's new perfume -- Dec. 15, 2004
Rapper 50 Cent introduces 50 Scent -- Sept. 23, 2005
Posted on December 5, 2006 11:31 PM | Permalink
---
Previous post: Operation Shop & Awe.
Next post: Bush eyes Santa for Cabinet post.