Global economy blues
Gazette exclusives
Drill Sergeant loses it
(YouTube sensation!)
Handy sites
About.com (Political Humor)
Alexa
Alternet
Bartcop
Borowitz Report
BuzzFlash
BuzzMachine
Fark
Dictionary.com
Glossy News
Google
Media Matters
New York Times
ThePoliticalCarnival
Romenesko/Poynter
Satire Awards
Word.com
« Curious George goes to Vietnam | Page One | Operation Shop & Awe »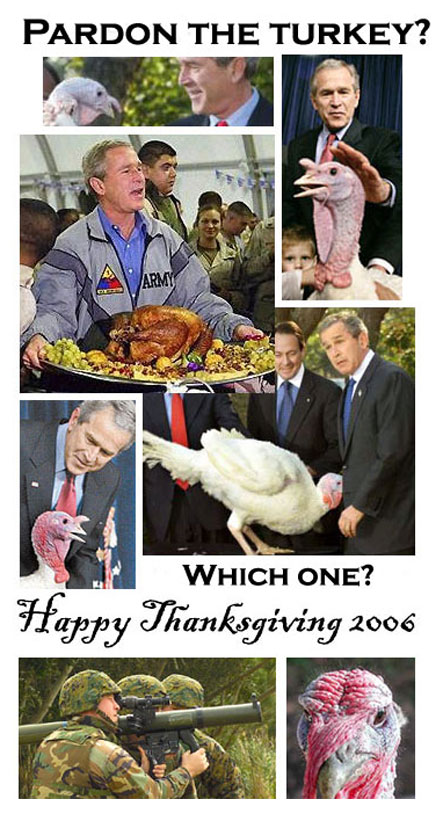 ---
Lame duck pardons turkey
By John Breneman
President Bush today pardoned a turkey that had been indicted by a federal grand jury for leaking a highly classified U.S. government cranberry sauce recipe.
The president then thanked the feisty, feathered beast for its service to the country and awarded it the Congressional Medal of Freedom. The bird, identified only as "Tom Doe," was also pardoned for attempting to sexually assault the president during the photo-op.

Democrats reflexively gathered outside the White House to protest the pardon, the war, White House malfeasance and Bush's smirking face. One man waved a banner calling the president "soft on turkeyism."
President Bush is reportedly holed up at his ranch/bunker in Crawford, Texas, where he is said to be excited about an opportunity to "clear some brush."
Related story:
Thanksgiving down off'm Greenleaf Parsons Road

Thanksgiving blessing #1 and #2
Posted on November 21, 2006 8:14 AM | Permalink
---
Previous post: Curious George goes to Vietnam.
Next post: Operation Shop & Awe.