Global economy blues
Gazette exclusives
Drill Sergeant loses it
(YouTube sensation!)
Handy sites
About.com (Political Humor)
Alexa
Alternet
Bartcop
Borowitz Report
BuzzFlash
BuzzMachine
Fark
Dictionary.com
Glossy News
Google
Media Matters
New York Times
ThePoliticalCarnival
Romenesko/Poynter
Satire Awards
Word.com
« Qaeda reports declining revenues in fiscal '06 | Page One | Hate exercise? Hire an exorcist »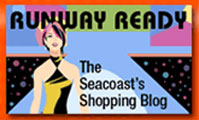 Awesome site plug: "Runway Ready"
My gorgeous wife Debbie writes a smokin' fashion blog over at the newspaper where I used to work and she still works, the Portsmouth (N.H.) Herald. Visit "Runway Ready" for her fun look at fashion, downtown Portsmouth and the whole pop-culture scene.
Posted on January 7, 2007 6:01 PM | Permalink
---
Previous post: Qaeda reports declining revenues in fiscal '06.
Next post: Hate exercise? Hire an exorcist.