« Revisionist History -- May 13 | Page One | Tie goes to the father »
Zombie industry booming despite Zombie scandal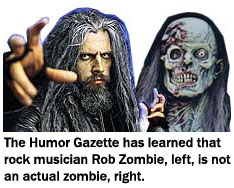 By John Breneman
Raging, cannibalistic zombies hauled in $10 million at the box office last weekend, causing much rejoicing throughout the zombie community.
Zombies also made inroads in the financial community with the news that Geico's new multimillion-dollar ad campaign would feature the slogan: "So easy a zombie can do it!"
However, there is also bad news for the soulless demographic.

Rock musician Rob Zombie, one of the nation's best-known bogeymen and a role model for a generation of young mutants, is not an actual zombie, the Humor Gazette has learned.
In fact, documents reveal that Zombie is not even Mr. Zombie's real name. Born Robert Bartleh Cummings in Massachusetts, he is a 1983 graduate of Haverhill High School, where he was voted "Most Likely to Devour the Flesh of a Rotting Human Corpse."
Mr. Zombie, whose body of work includes such sensitive numbers as "Superbeast," "The Devil's Rejects" and "Scum of the Earth," is considered a pioneer in the genre of satanic, sub-grunge anti-pop.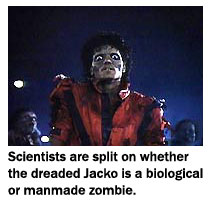 However, even though he has mastered zombie habits like gnawing on people's necks and staggering around trancelike with his arms extended, his image has been bloodied by the allegation that he is not a real zombie, but a Massachusetts-born, monster wannabe.
Local 666, International Brotherhood of the Undead released a statement saying it became suspicious of Mr. Zombie when it learned he is only 41. Most zombies are anywhere from several hundred to a couple thousand years old. It also noted that Mr. Zombie is "a masterful self-promoter," whereas most zombies avoid publicity like the morning sun.
In other zombie news:
MUSIC -- Zombies reunion tour leaves thousands dead in Cleveland
SPORTS -- Hard-hitting Zombies slaughter Yankees, 18-2
POLITICS -- Homeland Security raises zombie alert level to "Blood-Curdling"
NIGHTLIFE -- Local watering holes breathe new life into "The Zombie"
WEATHER -- Swarm of Category 4 zombies moving in from the northwest

Related reading:
"Everything You Ever Wanted to Know About Zombies But Were Too Horrified to Ask"

New movies:
"Revenge of the Living Dead 5: Dibs on the Brain Meat"

Posted on May 15, 2007 11:46 PM | Permalink
---
Previous post: Revisionist History -- May 13.
Next post: Tie goes to the father.