« Tie goes to the father | Page One | Sharpton slaps Santa for 'ho' »
THIS DAY in (REVISIONIST) HISTORY -- July 1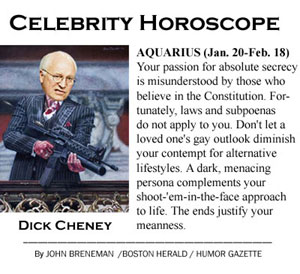 On this day in 1862, Russia founded its national library, with fines for overdue books starting at 10 years had labor down in the gulag.
On this day in 1874, America's first zoo opened in Philadelphia, featuring daily battles bewteen the donkeys and the elephants.
On this day in 1881, the first international telephone call took place between New Brunswick, Canada, and Calais, Maine. Several months later, a pizza arrived.
On this day in 1979, Sony introduced its new technologival marvel, the Walkman, a gadget capable of playing music on something called a "cassette tape."
On this day in 1987, excavation began on the Channel Tunnel, but work was suspended when Col. Klink and Sgt. Schultz found out about the scheme.
On this day in 1991, Court TV made its debut. It has since lost its appeal.
BIRTHS
William Strunk Jr. (1869-1946): co-author of "The Elements of Style," a classic book that teaches Americans how to write good.
Estée Lauder (1906-2004): cosmetics entrepreneur who made a fortune tricking women into buying expensive salves and potions.
Olivia de Havilland, 91: actress, won Oscar for "Gone With the Wind," then starred in the classic driver's-ed safety vidio "Gone With the Windshield."
Jamie Farr, 73: actor best known as Cpl. Max Klinger on "M*A*S*H," also turned up in "Star Trek 14" as the wacky, cross-dressing Cpl. Max Klingon.
Fred Schneider, 66: singer with the B-52's, later performed with the F-16s and the M-2 Bradley Armored Infantry Vehicles.
Dan Aykroyd, 55: inventor of the Bass-O-Matic, first Conehead to star in a major motion picture.
Princess Diana (1961-1997): beloved yet doomed fairy-tale princess who thought she was marrying a dashing British prince but ended up with a boring, old toad.
Pamela Anderson, 40: actress, former star of "Baywatch" and "home Improvement" is set to star in a cosmetic-surgery reality show called "Ho Improvement."
Posted on July 1, 2007 10:32 AM | Permalink
---
Previous post: Tie goes to the father.
Next post: Sharpton slaps Santa for 'ho'.