Global economy blues
Gazette exclusives
Drill Sergeant loses it
(YouTube sensation!)
Handy sites
About.com (Political Humor)
Alexa
Alternet
Bartcop
Borowitz Report
BuzzFlash
BuzzMachine
Fark
Dictionary.com
Glossy News
Google
Media Matters
New York Times
ThePoliticalCarnival
Romenesko/Poynter
Satire Awards
Word.com
« Revisionist History -- July 1 | Page One | Bush docs secure 'Brown Zone' »
Sharpton slaps Santa for saying 'ho'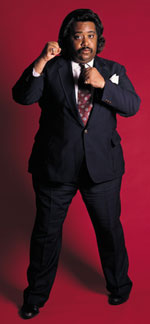 By Chris Elliott
The Rev. Al Sharpton has set his sights on the North Pole over what he calls "Santa's casual and constant use of the word 'ho'."

"Calling any woman a 'ho' is demeaning and abusive and it should not be tolerated on any level. With Santa it's always, ho this, and ho that, and then pretty soon it's ho ho ho with that fat old cracker," said Sharpton. "People cut him slack because of his philanthropy, but I am tired of watching him denigrate our beautiful black sisters. I didn't let Imus get away with it and, as popular as he is, Santa won't get away with it either. Racism in America is perpetuated by ignorance and hate, and I plan to micromanage the language people are permitted to use by claiming that the word 'ho' is a setback to civil rights and the advancement of equality."

Santa issued the following terse statement via reindeer express: "Tell Sharpton I'm making him a Tawana Brawley doll. It tells lies until you slap it around a little bit, ho ho ho!"
Related story:
Bush eyes Santa for Cabinet post -- Dec. 19, 2006

Posted on July 12, 2007 9:00 PM | Permalink
---
Previous post: Revisionist History -- July 1.
Next post: Bush docs secure 'Brown Zone'.