Global economy blues
Gazette exclusives
Drill Sergeant loses it
(YouTube sensation!)
Handy sites
About.com (Political Humor)
Alexa
Alternet
Bartcop
Borowitz Report
BuzzFlash
BuzzMachine
Fark
Dictionary.com
Glossy News
Google
Media Matters
New York Times
ThePoliticalCarnival
Romenesko/Poynter
Satire Awards
Word.com
« Brangelina to accelerate adoption binge | Page One | McCain sustains self-inflicted political wound »
Thurston Howell III endorses John McCain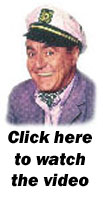 Noted billionaire Thurston Howell III of "Gilligan's Island" fame has thrown his support behind Sen. John MCain for president.
A Harvard-educated, East Coast elitist, Mr. Howell cited Sen. McCain's pledge to continue President Bush's tax cuts for the wealthiest 1 percent and said he feared Sen. Barack Obama's "mumbo jumbo" about alternative energy "could cost me billions in oil revenue."
"McCain is a Navy man," said. Mr. Howell. "After what he's been through, this little Wall Street meltdown doesn't scare John McCain. And believe me, I know about spending years as a prisoner being tormented by tedious companions."
Related story:
Gilligan 'taken out' by the CIA
Posted on September 23, 2008 10:38 AM | Permalink
---
Previous post: Brangelina to accelerate adoption binge.
Next post: McCain sustains self-inflicted political wound.