« Obama heckled by Animal House of Representatives | Page One | Potsie loses millions in Fonzie scheme »
Osama unveils new look in 9/11 video
By John Breneman
U.S. forces just missed nailing Osama bin Laden at a stylish Pakistan beauty parlor last week. This from a source close to the hairdresser who trimmed and dyed bin Laden's beard for today's highly anticipated 9/11 anniversary video.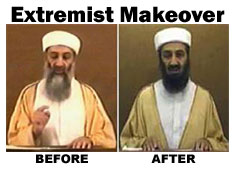 In another close call, Air Force B-2s bombed a heavily fortified luxury spa remote Uzbekistan moments after bin Laden stopped in for a manicure, pedicure and avocado mango butter facial.
Sources say the narcissistic terror kingpin likes to look sharp for the anniversary of his Sept. 11, 2001, attacks on America.
One year he bought himself a full-length mink coat. In 2007, he sported a jaunty straw hat. And longtime bin Laden watchers say his sense of fashion steadily improved since the embarrassing cornrow fiasco of 1998.
"I would personally kill a man to get my hands on his collection of cashmere shawls," said Amira Raj, editor of Allah Girl and a leading authority on extremist Islamic fashion trends.

Last month, she predicted bin Laden would have "work" done on his signature beard, saying, "The ZZ Top look is sooo 2005."
Raj noted that the Islamotainment industry is eager for a sneak peak at bin Laden's incendiary new looks for Spring 2010.
In a related development: A spokesman confirmed that bin Laden is no longer just a Grecian Formula Muslim Beard Club member, he is now the president.
Posted on September 11, 2009 2:25 PM | Permalink
---
Previous post: Obama heckled by Animal House of Representatives.
Next post: Potsie loses millions in Fonzie scheme.