« Extremist Makeover for Osama | Page One | Kim Jong-il out for season with torn ACL »
Potsie loses millions in Fonzie scheme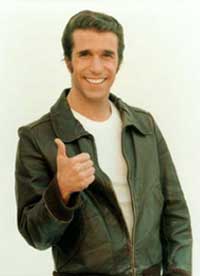 By John Breneman
Henry Winkler, best known for playing hoodlum Arthur Fonzarelli on the 1970s sitcom "Happy Days," has allegedly swindled millions from his former cast mates in what police are calling a full-blown Hollywood "Fonzie scheme."
Sources say Winkler/Fonzarelli used his roguish charm to con his victims, often deflecting questions about their investments by giving them the thumbs up and assuring them that everything was "cool."
Anson Williams, who portrayed the dim-witted Potsie, reportedly handed over his entire $1.6 million savings when Fonzarelli simply looked at him and said, "Aaaaaay."

Oscar-winning filmmaker Ron Howard also lost his shirt in the Fonzie scheme, and actor Scott Baio lost his pants. Also duped were a husband and wife identified in the federal indictment as "Mr. and Mrs. C."
Donny Most, who played wise-cracking Ralph Malph back in happier days, was also among those bilked by Winkler/Fonzarelli. Said Most, "I assumed he could make stock-market fortunes by just snapping his fingers."
Winkler/Fonzarelli, who was apprehended at Arnold's Drive-in in Milwaukee wearing an Armani leather jacket and driving a $150,000 Claudio Castiglioni MV Agusta F4 motorcycle, denied any knowledge of the Fonzie scheme.
Posted on September 14, 2009 9:12 AM | Permalink
---
Previous post: Extremist Makeover for Osama.
Next post: Kim Jong-il out for season with torn ACL.