« Red Sox fans suffering from Postseason Traumatic Stress Disorder | Page One | Rain Delay Man -- baseball savant »
Media high on helium during Balloon Boy coverage
By John Breneman
After going bonkers for the Balloon Boy hoax last week, CNN, MSNBC and Fox News today broke the news that a young boy dressed in a wolf suit had been kidnapped by "Wild Things."
When informed that the "Wild Things" news story was actually a movie that opened over the weekend, the media responded, "Oops. Never mind."
Defending his network's coverage of the Colorado balloon hoax, a CNN spokesman pointed out that the balloon was, in fact, "extremely shiny."
Authorities now say they are preparing to file charges against Richard Heene, an amateur scientist and inventor, and semi-professional douche who now faces possible jail time for contributing to the delinquency of the media.
The Balloon Boy hoax began to burst when 6-year-old Falcon Heene vomited during a CNN interview and said to his parents, "You guys said that we did this for the show."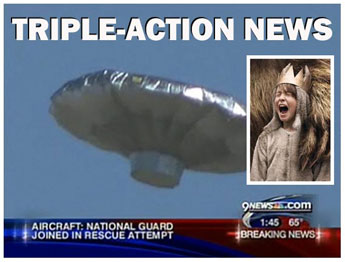 Scrambling to explain his son's apparent confession, the elder Heene said the boy had simply become confused because the family is simultaneously pitching several reality shows, including "Hurricane Boy," "Publicity Whore" and "Leave it to Falcon."
Sources say the Heenes, who previously appeared on ABC's "Wife Swap," were also developing a project featuring Kim Kardashian, Hulk Hogan and
former U.S. House Speaker Tom DeLay.
Fortunately, we here at Humor Gazette/Triple-Action News had the good sense not to waste precious air time on the "Balloon Boy" fiasco, reporting instead on Sarah Palin's latest tweet, Glenn Beck's latest mental breakdown and a rumor that the Octomom plans to adopt a puppy.
Posted on October 20, 2009 11:30 PM | Permalink
---
Previous post: Red Sox fans suffering from Postseason Traumatic Stress Disorder.
Next post: Rain Delay Man -- baseball savant.