« Media high on helium during Balloon Boy coverage | Page One | Swine flu over the cuckoo's nest »
Rain Delay Man -- baseball savant
Inspired by Dustin Hoffman's Oscar-winning character in "Rain Man," this video is an homage to the national pastime by my imaginary baseball savant -- "Rain Delay Man."

It's World Series time.
Fall Classic.
First played October 1, 1903,
Boston, Massachusetts.
Attendance 16,242 fans.
It was a Thursday.
Boston Americans beat Pittsburgh.
Cy Young – 28-9, ERA 2.08
He had an excellent slider.

National pastime. Colorful history.
Cubs win. Cubs win.
Last time October 14, 1908.
It was a Wednesday.
Tinker to Evers to Chance.
Excellent fielders.
Boston Red Sox.
1918 champions.
They sold Babe Ruth for $100. To the Yankees.
Ow.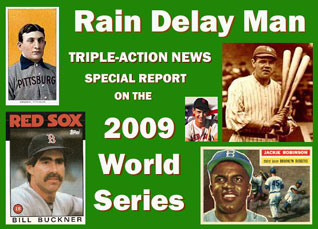 Uh-oh.
Black Sox! Black Sox!
1919. Shoeless Joe Jackson.
Banned for life by Judge Wapner.
"Say it ain't so."
'27 Yankees. Murderer's Row.
Lou Gehrig, Babe Ruth
Sultan of Swat.
Bambino likes beer.
St. Louis Cardinals. 1934
Gashouse Gang
Dizzy Dean, 30 wins. 19 for Daffy.
Who's on first? Ripper Collins
Excellent line driver.
October 15, 1946. It was a Tuesday.
Boston Red Sox. Game 7.
Ted Williams. Greatest hitter of all-time.
Severed head frozen at Alcor Life Extension Foundation in Scottsdale, Arizona.
Johnny Pesky.
Enos Slaughter rounding third…
Here comes the throw. Not in time.
Red Sox lose.
Ow.
1955 Brooklyn Dodgers. Dem Bums
Jackie Robinson, definitely broke the color barrier
Duke Snider, Peewee Reese.
Finally beat the Yankees. October 4, 1955.
It was a Tuesday.
Roy Campanella … not a very good driver.
Carl Yastrzemski. Yastrzemski, Carl.
Born Aug. 22, 1939. It was a Tuesday.
Fans love Yaz. Won the Triple Crown in 1967.
Impossible Dream.
Uh-oh.
Bob Gibson pitching for St. Louis.
Ow. Ow.
1975 Cincinnati Reds.
Big Red Machine.
Pete Rose. Charlie Hustle.
All-time hit king – 4,256 hits.
Banned for life by Judge Wapner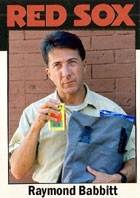 1986 World Series. Game 6.
Who's on first?
Uh-oh.
Billy Buckner.
Mookie Wilson at the plate.
Ow.
2004 Red Sox. Heh-heh. Heh-heh.
Bloody sock. Definitely bloody.
Great day for a ballgame.
Peanuts and crackerjack .
Don't care if I ever come back.
World Series time.
Fall Classic.
Charlie Babbitt says: Any rebroadcast, retransmission or other use of the pictures and accounts of this game without the express written consent of Major League Baseball is prohibited. Definitely prohibited.
Rain Delay Man suffers from a rare form of Postseason Traumatic Stress Disorder.
Follow Humor Gazette on Twitter
Posted on October 28, 2009 7:55 AM | Permalink
---
Previous post: Media high on helium during Balloon Boy coverage.
Next post: Swine flu over the cuckoo's nest.