Global economy blues
Gazette exclusives
Drill Sergeant loses it
(YouTube sensation!)
Handy sites
About.com (Political Humor)
Alexa
Alternet
Bartcop
Borowitz Report
BuzzFlash
BuzzMachine
Fark
Dictionary.com
Glossy News
Google
Media Matters
New York Times
ThePoliticalCarnival
Romenesko/Poynter
Satire Awards
Word.com
« Oprah quits Oprah to start Oprah network, star in 'Phantom of the Oprah' | Page One | Study: Myrrh may be hazardous to your health »
This just in from sister publication Jacko Digest:
Jacko Digest reports: Stone-dead Michael Jackson killed at the American Music Awards, winning four pointy plastic phallic symbols for the mantle at his multimillion-dollar hyperbaric burial chamber in Jackson Hole.
As media e-jacko-lation ensues, the nation's leading jacko-logists estimate $1.2 trillion in jacko-nomic impact.
Pretty young thing Taylor Swift, who beat Dead Jacko for Artist of the Year, said: "To even be mentioned in a category with Michael Jackson, who we will miss and love forever, is both an unimaginable honor and a little creepy." Kanye West could not be reached for a pompous self-aggrandizing comment.

In other highlights Lady Gaga performed at a flaming piano, "in honor of that time Michael's hair caught on fire."

Related stories:
HUMOR/TRIBUTE: Jackson joins Peter Pantheon of 'Off the Wall' entertainers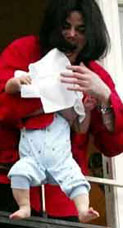 Wacko sister says Jacko murdered

Top baby name for 2009 is 'Jacko'

Jacko gets off: Verdict rocks globe -- June 14, 2005

Jackson testifies vs. Jacko at trial: Inner child cites years of abuse -- June 3, 2005

Tinky Winky claims 'Jacko touched me'

U.S. forces nab Jacko's #2 man in Pakistan
Posted on November 24, 2009 11:52 AM | Permalink
---
Previous post: Oprah quits Oprah to start Oprah network, star in 'Phantom of the Oprah'.
Next post: Study: Myrrh may be hazardous to your health .