Global economy blues
Gazette exclusives
Drill Sergeant loses it
(YouTube sensation!)
Handy sites
About.com (Political Humor)
Alexa
Alternet
Bartcop
Borowitz Report
BuzzFlash
BuzzMachine
Fark
Dictionary.com
Glossy News
Google
Media Matters
New York Times
ThePoliticalCarnival
Romenesko/Poynter
Satire Awards
Word.com
« Palin calls National Geographic cover 'sexist' | Page One | Jacko Digest: Taylor Swift stiffs Dead Jacko »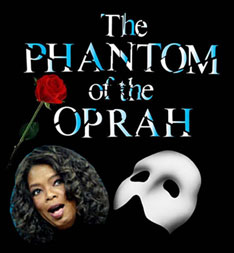 Oprah quits Oprah to start Oprah network, star in 'Phantom of the Oprah'
This just in: Oprah has made it O-fficial. In a major O-nnouncement that sent shockwaves from Chicago to Tokyo.
Winfrey is qutting Oprah to star opposite George Clooney and Danny DeVito in "O, Sister Where Art Thou?" and make her Broadway debut in "Phantom of the Oprah."
See the full story at my blog at the Boston Herald.

Posted on November 20, 2009 10:57 PM | Permalink
---
Previous post: Palin calls National Geographic cover 'sexist'.
Next post: Jacko Digest: Taylor Swift stiffs Dead Jacko.