« Introducing: The Daily Palin | Page One | Kim Jong-Il woos Sarah Palin »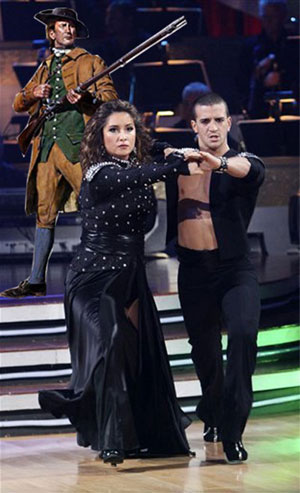 Tea Party threatens
'Second Amendment remedies' if Bristol Palin doesn't win 'Dancing with the Stars'
Rumblings within the rogue Tea Party voting bloc that has kept Bristol Palin alive on "Dancing with the Stars" suggest that anything short of a Palin victory could trigger "Second Amendment remedies."
Asked what that means, an anonymous Tea Party operative explained that "Second Amendment remedies" is a popular expression coined by Nevada Tea Party superstar Sharron Angle to advocate armed insurrection against governments or oppressive, left-leaning reality show regimes.
Amid rumors of death threats and bizarre conspiracies about voter fraud, Palin danced well last night, but remains an underdog in most polling. Fortunately for her and running mate Mark Ballas, the Tea Party is mounting an aggressive write-in campaign.
The plucky pro-abstinence heroine nailed a double pelvic thrust during a sexy freestyle dance routine, as cameras panned to proud mama Sarah cheering from the crowd.
Now America must wait until tonight to learn whether Sarah, I mean Bristol, can claim the coveted mirror ball.
Palin archrival Jennifer Grey has consistently received better scores from the judges, but sources say unnamed Tea Party operatives are prepared to "go negative" -- digging up dirt on the onetime "Dirty Dancing" star.
* * *
Today's video offers a harsh look at what might happen if two little girls discussed the extremes of Tea Party rhetoric while have a lovely tea party.

Posted on November 22, 2010 11:42 PM | Permalink
---
Previous post: Introducing: The Daily Palin.
Next post: Kim Jong-Il woos Sarah Palin.