« Humor questionnaire | Page One | Suicide bombers call in sick »
Pope says Islam is 'really swell'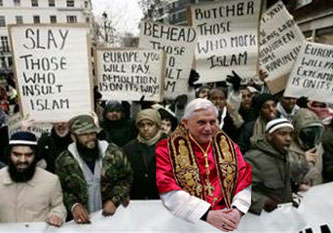 By John Breneman
Pope Benedict XVI, reaching out to Muslims offended by his recent comments about Islam being an "evil" religion, today said he actually believes Islam is "really swell."

"Oh yeah. I have a lotta new Muslim pals and they are really good dudes," the pontiff told Al-Jazeera morning show host Regis Zawahiri. "Seeing myself being burned in effigy around the world was kind of a wakeup call. It was like, duh, I'm not the boss of Mohammed."
The pope said "the Koran, the Qur'an -- whatever you call it -- is a real page-turner," but observers said he seemed fidgety and kept looking back over his left shoulder as he concluded his remarks. "To recap, Islam is really awesome. So please don't firebomb the Vatican, OK?"
In a related development, the artist formerly known as Cat Stevens (and currently known Shut Your Piehole, Idiot) spoke out against the pope, saying his remarks cast a dark "Moon Shadow" over the papacy and urging the pontiff to get onboard the "Peace Train."

Related stories:
Pope apologizes to Rosie O'Donnell -- Sept. 18, 2006

Help Wanted: Pope -- April 18, 2005
Posted on September 25, 2006 1:10 PM | Permalink
---
Comments (1)
i like how you've used humour to better a bad situation, but it wasnt funny. i never made me laugh at all!!!!!!!
Posted by Gemz | September 25, 2006 4:12 PM
Posted on September 25, 2006 16:12
---
Previous post: Humor questionnaire.
Next post: Suicide bombers call in sick.