« Revisionist History -- Sept. 2 | Page One | Bin Laden linked to Satan's pig-monkey »
Rich pooch makes Vick 'my (bleep)'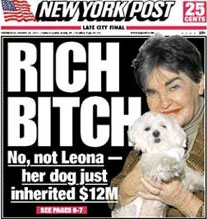 By John Breneman
Trouble, the ill-tempered Maltese that inherited $12 million from hotel mogul Leona Helmsley, reportedly was spotted in an upscale Manhattan pet store yesterday purchasing 100,000 Michael Vick chew toys.
A spokesman for America's wealthiest dog said the toys will be distributed to abused and underprivileged canines at the nation's animal-cruelty centers. "Payback," he said, "is a nasty little bitch."
One lucky pooch will also win a day of pampering with Trouble, including Shiatsu tummy massage and chi-chi avocado genital masque.
In a related development -- now that the Helmsley case affirms the rights of dogs to have their own bank accounts -- Michael Vick is being sued by three dozen West Virginia mutts claiming to be offspring of fighting canines killed by Vick and his henchmen.

The heirs of Slasher, Ripper, Shredder, Fangs, Prancer and Lassie24 are seeking punitive damages in a $12 million civil suit filed against real Michael Vick and video-game Michael Vick.
Related stories:
Dog Fighting League faces uncertain future -- Aug. 1, 2007

Ex-Chihuahua sues Paris Hilton -- Sept. 6, 2006

Posted on September 4, 2007 3:09 PM | Permalink
---
Previous post: Revisionist History -- Sept. 2.
Next post: Bin Laden linked to Satan's pig-monkey .