Global economy blues
Gazette exclusives
Drill Sergeant loses it
(YouTube sensation!)
Handy sites
About.com (Political Humor)
Alexa
Alternet
Bartcop
Borowitz Report
BuzzFlash
BuzzMachine
Fark
Dictionary.com
Glossy News
Google
Media Matters
New York Times
ThePoliticalCarnival
Romenesko/Poynter
Satire Awards
Word.com
« Study: Myrrh may be hazardous to your health | Page One | Groundhog predicts groundhog-led government takeover »
Edwards admits paternity, Bush Sr. may be next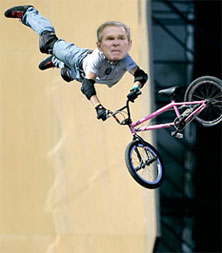 By John Breneman
Disgraced former presidential candidate John Edwards, who previously claimed that DNA testing would clear his sperm of any wrongdoing, today admitted that he is the father of a love child.

The news sparked rampant speculatation about whether former President George H.W. Bush would finally admit paternity of White House ne'er-do-well George W. Bush.
Sources say that after years of finger-pointing based on their nearly identical names and strong physical resemblance, the elder Bush may finally step forward to confirm what many have long suspected -- he is the father of one of the nation's all-time worst presidents.
Related stories:
Edwards flip-flops on infidelity issue -- Aug. 14, 2008

Bush may suffer from Iraq-tile dysfunction -- Jan. 2, 2006

Posted on January 21, 2010 9:54 AM | Permalink
---
Previous post: Study: Myrrh may be hazardous to your health .
Next post: Groundhog predicts groundhog-led government takeover.