« GOP death panel eyes 'job-killing' Obamacare | Page One | Fox clears Palin in Ariz. massacre, targets left »
Tweety Bird sues Twitter for $500M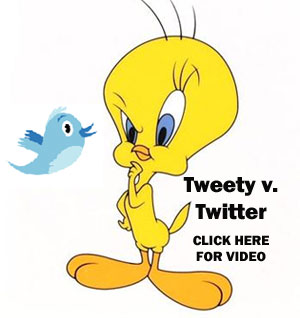 By John Breneman
Twitter, the phenomenally popular social networking service, faces a massive lawsuit that threatens to cripple its ability to transmit millions of inane messages known as "tweets."
13 O'Clock News has learned that beloved cartoon icon Tweety Bird is suing Twitter for $500 million. (See VIDEO.)
Attorneys for diminutive yellow bird charge that Twitter, whose logo is a diminutive blue bird, is guilty of "toppy-white infwinz-ment" and theft of "inta-wectual pwa-puddy." The suit also requests unspecified damages for "pain and tuffawing."
A spokesman for Mr. Bird demanded that Twitter cease and desist from using the term "tweet" in its business practices - claiming that it is confusing consumers and negatively impacting the Tweety Bird product line of pajamas, lunchboxes, fridge magnets, bobbleheads and speech impediment DVDs.
However, technology analysts say Mr. Bird may simply be hoping to cash in on the meteoric micro-blogging service before it is displaced by the next cyberspace flash-in-the-pan.
Studies show that many users quit Twittering after the first 15-30 minutes, and that Twitter is already losing ground to such newly emerging rivals as Fritter, DillyDally, TimeSuck and LollyGag.com.
And while supporters point to its vital role spreading real-time information about the unrest in Iran, critics say the service is used primarily by time-wasting tech nerds to share news of their latest bowel movement, and by pompous celebrities to validate their gargantuan egos.
Other new services vying to become the next big thing include: WhySpace, Babble, iChatter and Spammy.
Also: Yammer, BrainFreeze, SlackBerry and AssBook.
In other legal news:
Ex-Chihuahua sues Paris Hilton


Posted on January 7, 2011 9:51 AM | Permalink
---
Previous post: GOP death panel eyes 'job-killing' Obamacare .
Next post: Fox clears Palin in Ariz. massacre, targets left .