Global economy blues
Gazette exclusives
Drill Sergeant loses it
(YouTube sensation!)
Handy sites
About.com (Political Humor)
Alexa
Alternet
Bartcop
Borowitz Report
BuzzFlash
BuzzMachine
Fark
Dictionary.com
Glossy News
Google
Media Matters
New York Times
ThePoliticalCarnival
Romenesko/Poynter
Satire Awards
Word.com
« Friday 13th advisory | Page One | Sources: Rocker Rob Zombie not an actual zombie »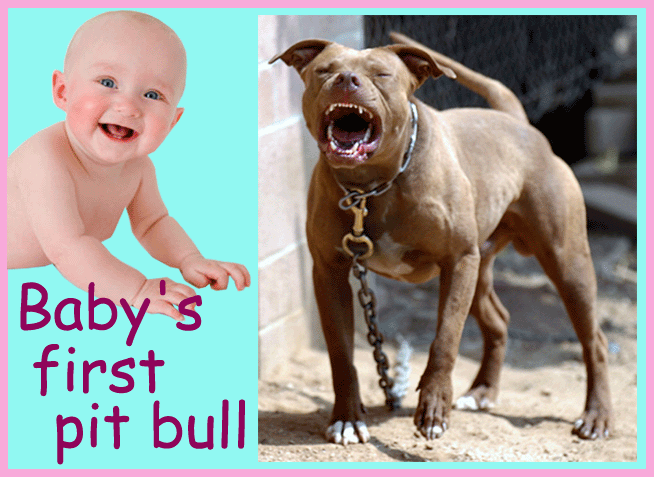 Can't figure out what to get for the birthday baby who has everything? Just imagine the joy on Baby's tiny face when he lays his baby blues on ... Baby's First Pitbull.
What better fuzzy companion could there be -- for the modern toddler on the go -- than a vicious domesticated killing machine with a skull-crushing jaw and razor-sharp fangs?
With his hair-trigger temper, Baby's First Pitbull enhances Baby's street reputation as an infant not to messed with. Plus, Baby's cuddly, bloodthirsty new pal will help keep him or her safe from external threats.*
* Chance of death by mauling just 14 percent.

ALSO:
Ex-Chihuahua sues Paris Hilton

Florida crackbaby is America's 300 millionth person

Swine flu over the cuckoo's nest

Tweety Bird sues Twitter for $500M

Posted on October 25, 2010 12:13 AM | Permalink
---
Previous post: Friday 13th advisory.
Next post: Sources: Rocker Rob Zombie not an actual zombie.