'Green Eggs and Hamlet'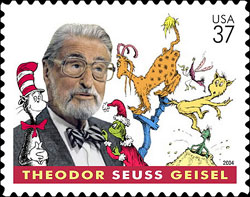 Happy 100th birthday to the good Dr. Seuss
Theodor Seuss Geisel, aka Dr. Seuss (March 2, 1904 - Sept. 24, 1991)

By John Breneman
"To eat them on a train, or not to eat them on a train: that is the question."
Kenneth Branagh's "Green Eggs and Hamlet," widely hailed as a rhyme-drenched fusion of Shakespearean tragedy and Seussian whimsy, is the most ambitious film to date in the new cinematic genre inspired by the late Theodor Geisel.
Enraged by the murder of his father the king, the youthful Prince Sam-I-Am (Branagh) seeks to exact his vengeance by tricking the killer into eating a poison plate of breakfast. Confusion and high intrigue ensue as his simplistic poetic badgering is consistently rebuffed.
Now that the box-office bonanza unleashed by "The Cat and the Hat" and "How the Grinch Stole Christmas" has trumpeted Dr. Seuss's posthumous emergence as a bankable Hollywood powerhouse, industry insiders are buzzing about a slew of new projects.
"It's like 'Citizen Kane' meets 'The 500 Hats of Bartholomew Cubbins'," Leonardo DiCaprio confided to a blond companion while nibbling pan-seared sneetch foie gras at Spago. A few tables over, Danny Devito literally drooled into his wasabi oobleck puree while discussing the merchandising potential of "Yertle the Teenage Mutant Ninja Turtle."

Spike Jonze, director of "Being John Malkovich," is doing a dark comedy called "Billy Bob Thornton Hears a Who." Jonathan Demme has signed Anthony Hopkins and Jodie Foster to costar in "The Silence of the Brown Bar-ba-loots." And Jack Nicholson is eager to play the feisty mental patient Randall Patrick McBoing-Boing in Milos Forman's "One Flew Over the Ruffle-Necked Sala-ma-goox's Nest."
Fright-meister Wes Craven is plotting an evil adaptation of one of the good doctor's earliest works. In "Nightmare on Mulberry Street," the murderous Freddy Krueger slays his victims with a Luger then feeds the corpses to a cougar. Even B-movie legend Roger Corman is getting into the act with the campy "One Fish, Two Fish, Attack of the Giant Man-Eating Blue Fish."
As with any Hollywood trend, the Seuss craze is generating its share of controversy. Robin Williams is demanding $20 million to reprise his role as the brawny, spinach-munching sailorman in "Hop on Popeye." And a source close to Tom Cruise says the actor is furious at Warner Brothers executives for refusing an eleventh-hour plea to change the title of his new film to "The Last Samurai-I-Am."
Finally, movie-goers have not seen the last of the Grinch, the green-hued protagonist who grossed $340 million worldwide for Universal three years ago when Jim Carrey ignited the Seuss-on-silver-screen phenomenon.
Entertainment Tonight reports that Adam Sandler will play a bumbling, yarmulke-wearing scrooge in "How the Grinch Stole Chanukah." Sandler's unorthodox Grinch awakens from an angry Manischewitz hangover in time to learn the true spirit of the holiday from Little Cindy-Lou Jew.
(Note: The producers may seek an injunction to block a similar December 2004 release, but friends say the Wayans brothers are determined to move ahead with their blaxploitation holiday spoof, "How the Grinch Stole Kwanzaa.")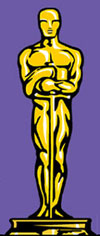 Bush wins Oscar, thanks Axis of Evil
By John Breneman
And the winner for Best Actor in a Geopolitical Drama is … George W. Bush in "Master and Commander: The Middle East Side of the World."
Bush, following in the tradition of the legendary Republican thespian Ronald Reagan, beat out Donald Rumsfeld, nominated for his portrayal of a bellicose Cabinet official who refuses to let international objections and shaky intelligence stop him from waging war in "Pirates of the Mediterranean: Curse of the Black Oil."
Looking mischievously presidential in a double-breasted Giorgio Armani tuxedo with a red, white and blue satin bowtie and $20,000 Bruno Magli ostrich-skin cowboy boots, Bush started by thanking his director, Dick Cheney.
"I'd also like to thank the Axis of Evil giving me this opportunity to rid the world of terror," said Bush, who went on to thank his costume designer for the snappy military flightsuit he wore in the surreal "Mission Accomplished" sequence and script consultant Clint Eastwood for such memorable lines as "Bring 'em on," "smoke 'em out" and "Either you are with us or you are with the terrorists."
Warning: Do not drift off to sleep while flipping between the Oscars and CNN.
This Oscar moment brought to you by
the makers of Oscar Mayer bologna:
The annual Oscars pre-awards coverage consists primarily of stars promenading along the red carpet and smiling while a TV pinhead poses the obligatory "What are you wearing?" query. But just once you wish the diva draped in designer finery would tell the whole truth.
"Well my dress is by Versace. My face is by Dr. Sergio Scalpelli and my botox is by SkinTech Pharmaceuticals. Oh, and my cleavage is by Dr. Tripp L.D. Gazongas. He's the best."
Jesus Christ,
box-office superstar
By John Breneman
Resurrected by Mel Gibson as a Hollywood heavyweight, Jesus is now being eyed for the title role in dozens of new projects, including "There's Something About Mary Magdalene," "Guess Who's Coming to the Last Supper" and the controversial "Last Tango in Nazareth."
Tom Hanks reportedly is set to star in "Jesus Gump," but a source close to the universally beloved Oscar winner said he is also reading scripts for "Sleepless in Jerusalem" and "You've Got Nail."
Many of Hollywood's biggest stars covet a piece of the action.
Richard Gere will play a militaristic Jesus in "A Savior and a Gentleman" and Woody Allen a neurotic, nebbishy son of God in "Everything You Always Wanted to Know About Crucifixion But Were Afraid to Ask."
Gibson's "The Passion of the Christ" has stirred passionate criticism that his portrayal of blood-thirsty Jews is anti-Semitic. But the Aussie filmmaker dismisses the charges, saying the same thing happened with "Schindler's Grocery List," "Who Framed Roger Rabbi?" and Dr. Seuss's "The Cat in the Yarmulke."
Other religious leaders have made favorable comments.
Pope John Paul II gave the film two thumbs up, saying, "It is as it was … only with bitchin' special effects."

"Fast Times at Bethlehem High"
There is now some question as to whether the Pope actually made the remark or was just signaling for another jumbo popcorn and some Milk Duds, but his publicist said John Paul II is excited about making his big-screen debut opposite Burt Reynolds in the free-wheeling buddy film "Smokey and the Pontiff."
Also according to the Tinsel Town grapevine, Oliver Stone will direct the story of a long-suffering Vietnam vet in "Born on the 25th of December" and Sean Penn is on board as a cool surfer Jesus in "Fast Times at Bethlehem High."
Other big names attached to Jesus projects include Madonna in "Desperately Seeking Salvation," Quentin Tarantino in the ultra-violent "Reservoir Gods" and Gene Wilder in the madcap comedy "Start the Resurrection Without Me."
The busy son of God will also battle B-movie forces of evil in "Jesus vs. Godzilla" and heal America's ailing democracy in the Capra-esque "Mr. Christ Goes to Washington."
Meanwhile the controversy surrounding Gibson's vision of Jesus Christ, box-office superstar, promises to help make the film a mega-hit, but Tinsel Town insiders say it would be an altogether different story had he not scrapped the movie's original title, "Lethal Whippin'."