Col. Qadhafi goes 'ballistic'

By John Breneman
Libyan crazy man Moammar Qadhafi has informed the United Nations that he is "sick and tired of having my name spelled 10 different ways."
Col. Gadhaffi, whose name is routinely spelled Kadhafi, Gadhdhafi, Qadhafi, Khaddafi and countless other variations in press reports, said he believes the spelling fiasco is part of a western conspiracy to irritate him into "firing off a bunch of nuclear bombs and maybe a little mustard gas."
Qadhafi, whose first name is also spelled Muammar, Mu'ammar or Mohammar, is reportedly "going ballistic" over the inconsistencies.
In a letter addressed to "American President Jorge W. Boosh," Kadhafi revealed that he is considering changing his name to make it easier for the international media to accurately write about him.
Among the possibilities he is reportedly mulling: Mo Hammer Q. Daffy, Mojo McNasty and Mo Mr. Coffee. Also, Fred MacMurray.
Critics say Khaddafi hasn't been getting his name in the paper as much lately with all the attention to Iraq, Afghanistan and the Israeli-Palestinian crisis and is probably just trying to drum up a little publicity.
Other heads of state in the news today:

A leaner, meaner Palestinian leader ... Yasser Arafat is sporting a buff new physique and shilling his "Ara-Slim Weight Loss Plan" in infomercials on Al-Jazeera TV.
Arafat, who offers diet advice like: "Eat nothing but mortar dust for three weeks," has also released a rap recording under his newly created Ara-Phat label.
Gen. Pervez Musharraf, president of Pakistan, accidentally detonated a small nuclear device in his office yesterday. Musharraf reported that he was "cleaning the weapon" when all of a sudden it "just went off."
Afghanistan President Hamid Karzai is seeking U.S. support for his plan to execute anyone who he thinks might try to assassinate him. He is also considering banning the consumption of Dinty Moore Beef Stew in his country.
Meanwhile, Chinese President Jiang Zemin has suffered a pulled hamstring and U.N. Secretary-General Kofi Annan is thinking of getting a pony.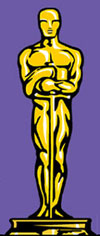 Bush wins Oscar, thanks Axis of Evil
By John Breneman
And the winner for Best Actor in a Geopolitical Drama is … George W. Bush in "Master and Commander: The Middle East Side of the World."
Bush, following in the tradition of the legendary Republican thespian Ronald Reagan, beat out Donald Rumsfeld, nominated for his portrayal of a bellicose Cabinet official who refuses to let international objections and shaky intelligence stop him from waging war in "Pirates of the Mediterranean: Curse of the Black Oil."
Looking mischievously presidential in a double-breasted Giorgio Armani tuxedo with a red, white and blue satin bowtie and $20,000 Bruno Magli ostrich-skin cowboy boots, Bush started by thanking his director, Dick Cheney.
"I'd also like to thank the Axis of Evil giving me this opportunity to rid the world of terror," said Bush, who went on to thank his costume designer for the snappy military flightsuit he wore in the surreal "Mission Accomplished" sequence and script consultant Clint Eastwood for such memorable lines as "Bring 'em on," "smoke 'em out" and "Either you are with us or you are with the terrorists."
Warning: Do not drift off to sleep while flipping between the Oscars and CNN.
This Oscar moment brought to you by
the makers of Oscar Mayer bologna:
The annual Oscars pre-awards coverage consists primarily of stars promenading along the red carpet and smiling while a TV pinhead poses the obligatory "What are you wearing?" query. But just once you wish the diva draped in designer finery would tell the whole truth.
"Well my dress is by Versace. My face is by Dr. Sergio Scalpelli and my botox is by SkinTech Pharmaceuticals. Oh, and my cleavage is by Dr. Tripp L.D. Gazongas. He's the best."
Jesus Christ,
box-office superstar
By John Breneman
Resurrected by Mel Gibson as a Hollywood heavyweight, Jesus is now being eyed for the title role in dozens of new projects, including "There's Something About Mary Magdalene," "Guess Who's Coming to the Last Supper" and the controversial "Last Tango in Nazareth."
Tom Hanks reportedly is set to star in "Jesus Gump," but a source close to the universally beloved Oscar winner said he is also reading scripts for "Sleepless in Jerusalem" and "You've Got Nail."
Many of Hollywood's biggest stars covet a piece of the action.
Richard Gere will play a militaristic Jesus in "A Savior and a Gentleman" and Woody Allen a neurotic, nebbishy son of God in "Everything You Always Wanted to Know About Crucifixion But Were Afraid to Ask."
Gibson's "The Passion of the Christ" has stirred passionate criticism that his portrayal of blood-thirsty Jews is anti-Semitic. But the Aussie filmmaker dismisses the charges, saying the same thing happened with "Schindler's Grocery List," "Who Framed Roger Rabbi?" and Dr. Seuss's "The Cat in the Yarmulke."
Other religious leaders have made favorable comments.
Pope John Paul II gave the film two thumbs up, saying, "It is as it was … only with bitchin' special effects."

"Fast Times at Bethlehem High"
There is now some question as to whether the Pope actually made the remark or was just signaling for another jumbo popcorn and some Milk Duds, but his publicist said John Paul II is excited about making his big-screen debut opposite Burt Reynolds in the free-wheeling buddy film "Smokey and the Pontiff."
Also according to the Tinsel Town grapevine, Oliver Stone will direct the story of a long-suffering Vietnam vet in "Born on the 25th of December" and Sean Penn is on board as a cool surfer Jesus in "Fast Times at Bethlehem High."
Other big names attached to Jesus projects include Madonna in "Desperately Seeking Salvation," Quentin Tarantino in the ultra-violent "Reservoir Gods" and Gene Wilder in the madcap comedy "Start the Resurrection Without Me."
The busy son of God will also battle B-movie forces of evil in "Jesus vs. Godzilla" and heal America's ailing democracy in the Capra-esque "Mr. Christ Goes to Washington."
Meanwhile the controversy surrounding Gibson's vision of Jesus Christ, box-office superstar, promises to help make the film a mega-hit, but Tinsel Town insiders say it would be an altogether different story had he not scrapped the movie's original title, "Lethal Whippin'."
At the Movies: Terror in Tinsel Town

"Straight plan for the Constitution, man."
President declares war on gay marriage
Bush strikes blow for sanctity of satire
By John Breneman
WASHINGTON -- Citing an imminent threat to his base of support on the religious right, President Bush today called for a constitutional amendment banning millions of people from participating in what he called "the most fundamental institution of civilization."
"Dicking around with the sanctity of the Constitution is the only way to nip this thing in the butt," said Bush.
When reporters began to ask him how a vow of love and commitment between a same-sex couple threatens such relationships between a man and a woman, the president, as expected, turned his back and walked out of the room.
White House spokesman Scott McClellan later explained the president is acting on solid intelligence that gay men possess biologically incorrect weapons and are not afraid to use them.
Earlier, in an exclusive interview with the Humor Gazette, Bush confided his belief that gay marriage threatens our way of life because the thought of two men together "gives me the willies." When pressed, however, Bush admitted that daydreaming about two women gets him "a little hot," unless Rosie O'Donnell is involved.
Saying he is deeply troubled by the blatantly homosexual civil disobedience taking place in San Francisco, the president said a crackdown is needed before gay weddings spread to "real cities" like Las Vegas and Texas.
Bush vowed he would never relent in defending America from any threat to same-sex marriage. The sacred promise between man and woman enjoys a staggering 50 percent success ratio, he noted, an impressive number compared to, say, government, where about 17 percent of all promises are fulfilled.
President Bush, who proudly counts the "sanctity of marriage" among his favorite soundbites, blamed the crisis on "limp-wristed activist judges" and concluded his remarks by saying, "These people must be stopped from pledging their unconditional love for each other before it's too late."
Constitutional scholars say such an amendment would not necessarily ban gay people from using the same water fountains as heterosexuals. However, the American Civil Liberties union has expressed concern that conservatives may seize this opportunity to outlaw canine marriages (see related story), controversial dog-cat weddings and any union between a man and a farm animal or inflatable doll.