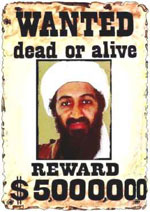 Bin Laden releases tape on his new label
In an audiotape offering a terror truce to European countries that pull their troops from Muslim nations, Osama bin Laden also suggested he might also be willing to ease up a little if he could just get a thick juicy steak and a hot shower.
C.I.A. analysts say the tape is probably authentic because they also picked up some chatter indicating the scrawny terrorist is down to his last case of SPAM. However, there is still a 1 percent chance the voice is that of entertainer Pee-Wee Herman.
President Bush issued orders to "smoke him out" and asked whether the tape could in any way be linked to Saddam Hussein. Bush added, "Did he say anything about where the weapons of mass destruction might be hidden?"
Meanwhile, the Humor Gazette released an audiotape carrying the following message: "Attention Osama bin Laden, you murderous sack of maggot dung. Come out of your maggot dung-infested, urine-drenched rat cave with your hands up so we can riddle your gutless scum-carcass with 10,000 virgin bullets, you (five-second delay) hump of rabid dog mess."
The C.I.A. said further evidence of the bin Laden tape's authenticity was that it referred to recent events such as the Easter Bunny plot and President Bush dropping a comic bomb with his jokes about weapons of mass destruction.
"That Bush, he slays me," bin Laden said on his latest tape, released under his new insurgent Muslim extremist hiphop record label, Afghanistan Gangsta. The recording also has a digitally remastered version of "Osama Said Knock You Out."
The C.I.A. would not comment on a rumor it has recruited the rapper 50 Cent to "roll" over to Afghanistan and "off" that "punk-ass terrorist mutha fucka."

---
---
President tells nation, 'I'm sure something
will pop into my head'
By John Breneman

Make no mistake. Gathering threat. Must not waver. Stay the course.
His Tuesday night press conference was going along just fine. The president had successfully ducked one question about whether he'd made any "errors in judgment" and dodged another about "personal responsibility for September 11th."
He in-your-faced the nation by playing the dunce, twice, when asked clearly and directly why he and the vice president insist on appearing before the 9/11 Commission together instead of individually.
George W. Bush had wisely chosen to field questions from the East Room of the White House instead of from the deck of an aircraft carrier in front of a giant "Mission Accomplished" banner. And when Uncle Dick picked out the evening's attire, the famous military flightsuit was tucked deep in the White House play closet.
President Bush did not waver from his message while he stayed the course. There was no talk of outsourcing the fighting to India if the violence does not abate.
He even answered a question on the minds of many. "Mr. President, who will we be handing the Iraqi government over to on June 30th?"
BUSH (actual words): "We'll find that out soon. That's what Mr. Brahimi is doing. He's figuring out the nature of the entity we'll be handing sovereignty over."
See, Brahimi is on it. He's gonna let us know. No truth to the rumor Cheney plans to sell the strife-torn nation to Halliburton for an undisclosed sum and some quid pro quo to be named later.
Once the entity is identified and order restored it will be safe to implement the president's time-tested economic development strategy -- distribute generous tax breaks to the rich and open the region to exploitation by corporate friends with addresses in the Bahamas.
Some of the questions were kind of tough but stuff kept coming out of his mouth. "Now is the time and Iraq is the place." And the smirk stayed tucked away, at least until it leaked out when he said the oil revenue stream there is "pretty darn significant."
But trouble loomed ahead, a grave and gathering question. Mr. President: "After 9-11, what would your biggest mistake be … and what lessons have learned from it?"
BUSH (actual words): "I wish you'd have given me this written question ahead of time so I could plan for it. John, I'm sure historians will look back and say, gosh, he could've done it better this way or that way. You know, I just -- I'm sure something will pop into my head here in the midst of this press conference, with all the pressure of trying to come up with answer, but it hadn't yet. …"
"I hope -- I don't want to sound like I have made no mistakes. I'm confident I have. I just haven't -- you just put me under the spot here, and maybe I'm not as quick on my feet as I should be in coming up with one."
And don't get him started on those weapons of mass destruction. "They could still be there. They could be hidden, like the 50 tons of mustard gas in a turkey farm," some of Col. Gadhafi's leftovers found in Libya.
Stay the course. Hypothetical linguistic analysis reveals that President Bush favors the word "course" because it subconsciously reminds him of country club living and shooting golf with his dad and that he favors the term "stay the course" because it's stuck in his head from hearing Dana Carvey poke fun at his pop.
"Stay the course" means never having to say you're sorry, never having to answer any question you don't want to.
Stay the course, and you'll probably find those weapons after all. You may even get that parade for the American liberators you promised yourself way back when.
Make no mistake. Gathering threat. Dangerous man. Stay the course?
---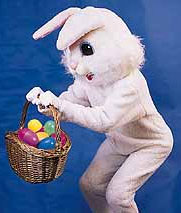 Easter Bunny held for questioning
U.S. counter-terrorism officials would neither confirm nor deny that the Easter Bunny is being held for questioning about a clandestine overnight operation that exposed the nation's children to countless tons of teeth-rotting weapons of mass confection on Sunday.
But sources close to the floppy-eared holiday icon claim he is being interrogated in a cramped mesh-bottom cage in Guantanamo Bay. The charges: periodontal terrorism and 52 million counts of contributing to the obesity of a minor.
The alleged incarceration of the Easter Bunny (aka Peter Cotton-Tail) has already become politicized. Critics charge that the Bush administration was slow to guard against the threat that gut-busting quantities of chocolate might be deployed, on a sacred religious holiday no less, despite a March 6 Presidential Daily Briefing (PDB) entitled "Easter Bunny determined to strike in U.S."
"We should have been on pastel alert," said White House heckler Adolf W. Bush. "The president should have been more vigilant about the national obesity epidemic that makes our soft underbelly particularly vulnerable to, say, a giant milk chocolate rabbit, fistfuls of jelly beans or a gaggle of glistening marshmallow peeps."
But National Security Adviser Condoleezza Rice appeared on Oprah, Regis and Saturday Night Live to defend the president, saying, "No one could have imagined terrorists using candy as a weapon."
Rice admitted there was some heightened chatter in the months leading up to Easter, but most of it non-specific fragments like "Hippity hop bunny trail," "dye, eggs, dye" and "mother of all chocolate Jesuses."
---
A day at the 9/11 Commission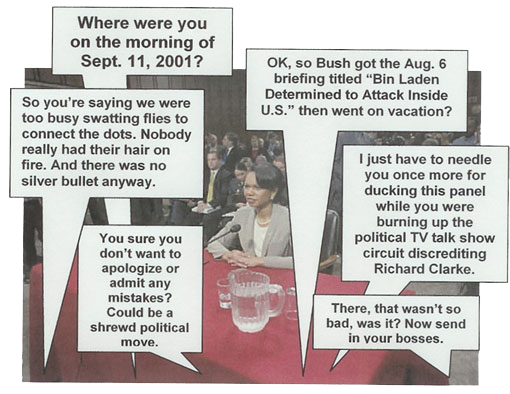 A comic bomb:
Bush slays 'em with WMD gag
With a comic touch as deft as a Baghdad bombing raid, President Bush reduced the side-splitting Iraq weapons of mass destruction fiasco to a punchline.
The Commander-in-Cheek laughed off the world's concern about non-existent WMDs at the 60th annual Radio & Television Correspondents' Association dinner Wednesday night.

War on Iraq
U.S. death toll: hundreds
Cost: untold billions
Bush's standup routine: priceless.
Too bad the families of soldiers killed in Iraq don't get the joke.
If you missed it, President Bush was showing funny pictures and cracking jokes about them when up popped a photo of him looking under a desk. "Those weapons of mass destruction must be somewhere," quipped the White House wagster. "Nope, no weapons over there … Maybe under here."
The bit unwittingly lampooned Bush's cluelessness that his phony weapons bluster for a war that has now claimed hundreds of U.S. lives might not be the best fodder for cornball humor from a leader regarded in much of the world as a malevolent moron.
Sources say Bush is planning followup jokes about some of his other wacky stunts, like tagging the U.S. Constitution with anti-gay grafitti, giving phony $4 billion cost estimates for the $5.5 billion Medicare bill and sporting a flightsuit for his side-splitting "Mission Accomplished" caper.
"Sheer comic genius," raved the respected comedian Carrot Top, who is helping the president build an arsenal of one-liners and witticisms of mass destruction.
John Kerry, after consulting with political humorist Al Franken, issued a statement calling Bush "a big fat idiot."
Related story:
President sends Wile E. Coyote on mission to nab bin Laden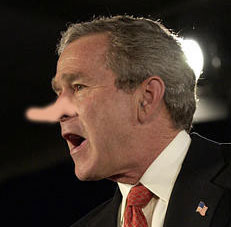 Kerry claims proof Bush lied about Iraq
By John Breneman
A John Kerry supporter claims to have conclusive photographic evidence that President Bush lied about weapons of mass destruction in Iraq. The picture was allegedly taken Saturday in Orlando, Fla., during a 15-minute Bush stopover to bag $200,000 each from a bunch of businessmen who want a piece of him.
As the president began fielding a question about Iraq, his nose reportedly appeared to sprout from his face, reaching nearly three inches as he continued on about the economy and the real cost of Medicare.
A leading Democratic spin doctor who analyzed an X-ray of the image said the prognosis is grim, possibly terminal, for the Bush presidency. Dr. Dawn Key said the malignant fib-nose may leave the president with as little as eight months to lead.
But Dr. Ella Funt, a respected GOP spin doctor, dismissed that as a partisan diagnosis and said the photo was probably doctored, like the one Republican supporters were distributing of John Kerry and Jane Fonda.
Furthermore, she said, the president's tendency to fudge the truth could not possibly cause such extreme enlargement of the proboscis, unless of course the president was actually a Pinocchio-like marionette, manipulated by, say, Donald Rumsfeld and Dick Cheney.
President Aleksander Kwasniewski of Poland, who complained Thursday he was "misled" about Saddam Hussein's weapons of mass destruction, said the hapless marionette theory would help explain why Bush seemed so oblivious to the apparent Halliburton conflict of interest fiasco.
Kerry, meanwhile, boasted that dozens of world leaders called to tell him they want Bush out, a few even mocking the president's own cowboy-speak by adding, "dead or alive."
However, a GOP political analyst said the White House is unconcerned. Bush's standing with his conservative base remains strong, especially now that he's reversed his previous position and called for an anti-gay marriage amendment to the Constitution.
The American people, he said, won't be fooled by the Democratic tactic of calling the Bush administration dishonest about everything from job projections and the deficit to WMD claims and Medicare (both the phony news video and the part about threatening to fire actuary Richard S. Foster if he told the truth about the pesky $1.5 cost overrun).