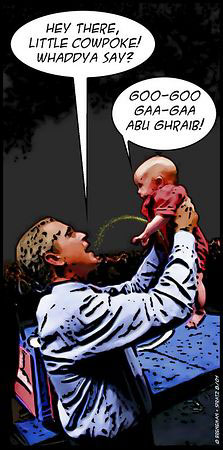 Lil' evil-doer
DAY ONE of the Republican National Convention got off to a strange start when President Bush grabbed a baby and hoisted it over his head in traditional campaign style.
The adorable photo-op turned ugly, however, when the tyke mocked the president by saying "Abu Ghraib," flawlessly, then stinging the horrified commander-in-chief with a stream of pee.
A Bush spokesman said a preliminary investigation revealed the baby may have ties to John Kerry and likely breached security by crawling under one of the loyalty oath/polygraph checkpoints stationed at every entrance.
An official with the Kerry campaign denied responsibility, then joked, "Looks like the terror alert has been lowered to yellow."
Geraldo Rivera claims the baby is connected with a group calling itself Lil' Tugboat Tooters for Twoof. But according to al Jazeera, the incident is more likely an act of infanto-terrorism perpetrated by an agent of the youthful al Qaeda fringe group, al Cradle.
There are conflicting reports on the identity and whereabouts of the baby, which was flung into the crowd by President Bush then shackled and sent to Guantanamo Bay for interrogation.
In other convention news: Defense Secretary Rumsfeld has asked for a legal ruling on whether hostile infants are subject to the Geneva Conventions.

---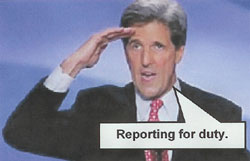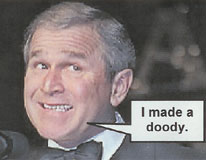 ---
Gazette endorses Bush
Now more than ever, as we wage the war against terror in Washington and Iraq, America needs a brash, uncompromising president who is not afraid to take action in the face of questionable intelligence -- a man capable of making profound, far-reaching decisions undistracted by knowledge, logic and reason.
Winning the White House's war in Iraq will require a cocky, shoot-from-the-lip leader who doesn't give a Texas damn what other nations think of us -- an aggressive, unapologetic war president determined to ignore and discredit nagging voices of dissent during these difficult times.
Now more than ever America needs George W. Bush, shrewd son of a rich Republican dynasty who understands it is more imperative to talk about moral values than to actually embody them -- a folksy, faux gun-slinger skilled in shrugging off seemingly damaging developments with a soundbite and a smirk.
When the Good Lord informed President Bush that Saddam Hussein must go, he did not waver or fret about international opposition. He wisely heeded God's instructions, smoked the WMD-packing madman into a hole and took him out.
The world is surely a safer place now that the al Qaeda-loving dictator is no longer in power. Who could deny that we become more secure with each terrorist who is killed or stacked up naked in a pile?
Indeed, we know we are safer because -- though the wrath of Allah may rain down upon us at any moment -- President Bush keeps repeating that he is making us safer.
Quibbling over past statements about weapons of mass destruction and links between Iraq and al Qaeda does not do America any good now. This anti-Bush rhetoric is the stuff of simpering Saddam sympathizers who think they can have their uranium yellow cake and eat it too.
Sometimes we are moved to ask: What part of "you're with us or you're with the terrorists" don't these people understand?
Also hurting the cause are those who would question why 1,000 young Americans must make the ultimate sacrifice to take over a country where no weapons have yet been found. To this we say, simply: Freedom-hating thug. Hated America. Madman. World a safer place.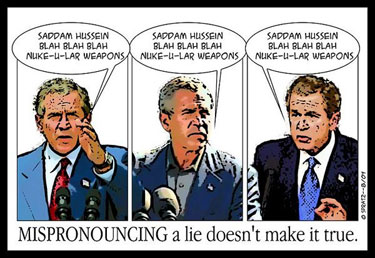 Critics may seize upon some of the president's words to paint him as a thick-headed, born-again slacker who is intellectually and morally unfit for his job as leader of the free world. Some even mock his alternative pronunciation of the explosively symbolic word "nuclear."
But when the president said recently, "Our enemies are innovative and resourceful, and so are we. They never stop thinking about new ways to harm our country and our people, and neither do we," he meant to trumpet his vigilance against evildoers, not re-ignite charges that his administration's actions have put us at greater risk. We must understand that this is a man so composed in the face of an unspeakable tragedy that he continued to read "My Pet Goat" to schoolchildren upon learning of the Sept. 11 attacks.
Yes, do not misunderestimate George W. Bush. Family jewels and fancy schools do not guarantee a facility with fancy words like "malfeasance" and "subliminible." So what if he has five ways to say "Abu Ghraib" or seems to have forgotten about bin Laden?
The important thing is he believes he has the ability to communicate with the Lord, and thus will not be constrained by the separation of church and state as he protects the God-given right of each fetus to own a gun.
We must not let some decorated military "hero" cut short the divine mission of a man who whose own stealthy service during the Vietnam War helped keep the homefront safe for debauchery.
See, the president has told us in no uncertain terms that his bleeding Purple Heart liberal opponent plans to raise taxes by $8 trillion, decimate the U.S. military and stamp out family values.
Yes, America should be wary of John Kerry. What kind of flip-flopper fights bravely for his country then turns around and talks about the horrors of war?
President Bush not only supported the war in Vietnam, he completed his Air National Guard service so masterfully that there are no eye-witness accounts of it to be found, and certainly no embarrassing politically motivated Bronze Star incidents.
Now, as commander-in-chief, he battles enemies old and new while protecting our way of life from threats posed by stem-cell research, gun control and the ultimate menace to our society, gay marriage.

And so, as the most important election of our time draws near, do not be fooled by partisan Democratic claims or valid independent research that President Bush has harmed the economy with his tax cuts for the rich, damaged our nation's stature in the eyes of the world and needlessly sacrificed thousands of American and Iraqi lives.
As the president might say, now is not the time to not stay the course. Make no mistake, that would be a victory for the terrorists as they keep trying to weaken our resolve.
So if you want a president who would never exercise sensitivity in bludgeoning Iraq into democracy, a president who understands that a rising death toll means lower unemployment, a president whose men will do whatever it takes to get him back into the White House, vote for George W. Bush on November 2.
John Breneman
Editor, Humor Gazette
---
---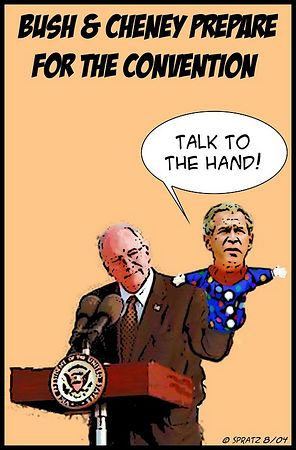 Bush front group smears Humor Gazette
The Humor Gazette, preparing its blockbuster coverage of the Republican National Convention, has already run into a little trouble.
A group calling itself Lying Sacks of Elephant Dung for Bush has apparently launched a smear campaign against the Gazette, claiming the publication did not deserve its three Purple Funnybone awards for wartime satire.
The Bush attack dogs, a drooling pack of failed Republican comics, even called into question a prestigious Bronze Groucho awarded to Gazette editor John Breneman by the New England Press Association in 2001.
Sen. Bob Dole called the Gazette's humor "superficial" and suggested it be banned from covering the Republican Convention unless it signed a loyalty oath to President Bush.
Gazette publisher Arturo DiMaunchie responded quickly, calling President Bush "a major league jackass" and "perhaps the slimiest president of all-time," while pledging that the paper's "fair and balanced" convention coverage would not be affected by the president's "moral cowardice" nor his lame, possibly illegal, attempt to claim credit for the Iraqi soccer team's Olympic glory.
White House smears Humor Gazette:
March 31 report documents pattern of harrassment

---
FCC fines NBC for Olympic coverage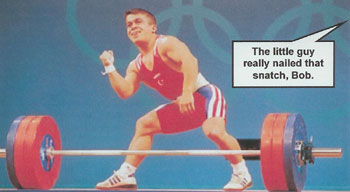 By John Breneman
The FCC has imposed a hefty fine on NBC for repeatedly broadcasting the word "snatch" during coverage of Olympic weightlifting competition. Federal censors added that many viewers might also be offended by the imagery evoked by the words "clean and jerk."
FCC Chairman Michael Powell explained that the term "snatch" is also used as slang for the female genitalia and "jerk" is a word occasionally used to describe auto-erotic activity, or masturbation in layman's terms.
The weightlifting competition also features "more grunting that you hear in most porn movies," said Powell, adding of the Olympic Games in general, "What do you expect from an event that used to be held in the nude."
Ukrainian weightlifter Vladimir Yankov admitted to moaning and groaning throughout the competition, but said it is almost impossible to compete at the Olympic level without emitting the loud grunt that traditionally signals the successful climax of the snatch.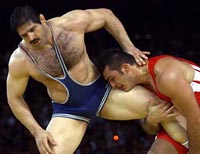 Powell's crackdown may also target wrestling, which he said "appears to be nothing more than two men rolling around on the floor, grabbing each other to find out who'll be the dominant one and who will submit."
The FCC chief warned male swimmers and divers to avoid wearing tiny Speedo trunks and said women's beach volleyball is "one wardrobe malfunction away from a big fine."
Powell, who may force NBC to blur the groin area of competitors in the 100-meter race, said he cringes every time an announcer speak of a gymnast "nailing her dismount" and is still deciding whether commentators may say "pole vault" on the air.
---
Ridge terror alert smells fishy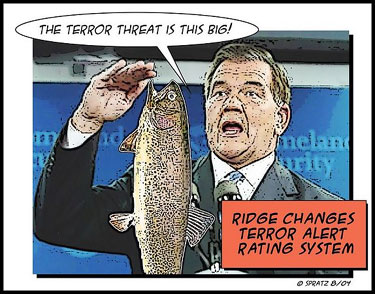 Responding to harsh criticism from the New York Times that his Crayola-based terror alert system is more useful to late-night comedians than the American public, Homeland Security Director Tom Ridge today announced that he is switching to a fish-based system.
Henceforth, instead of standing in front of a color-coded chart while simultaneously warning Americans to be very afraid and reassuring them about "the president's leadership in the war against terror," Ridge will simply spread his hands apart - close together if the terror threat is minimal, and very far apart if an attack seems imminent.
On occasion, he may use an actual fish. Perhaps one swordfish if the terrorists are coming by land, two North Atlantic salmon if by sea. Three flying fish if the bastards are coming by plane again. And a standard 12-inch parrotfish when bursting onto the scene at politically convenient moments to hail the captain's firm hand at the helm.
Related story:
U.S. at risk of attack by giant pterodactyl

---
Nostradamus issues terror warning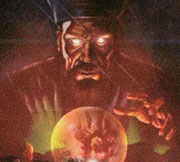 By John Breneman
Citing new intelligence received from Nostradamus, Tom Ridge today warned all Americans to "hold onto their hats."
Ridge, director of the U.S. Department of Terror, said agents have discovered a new document in which the mysterious 16th-century prophet speaks of a "grave and gathering danger" posed by an unidentified "beast from the Middle East."
The fact that the new terror alert comes on the heels of the John Kerry's rousing speech at the Democratic National Convention is just a coincidence, said Ridge, who nevertheless warned that registered Democrats may be at heightened risk.
"The terrorists hate the word 'democracy' so much they are hoping to kill as many Democrats as possible," said Ridge, who urged all Dems to re-register as Republicans and vote for President Bush "just to be safe."
Ridge, who has been criticized for issuing vague terror alerts timed to counter any Democratic momentum in the presidential race, said the Nostradamus prophecy was fairly specific. It read, in part:
"Some asshole named Mohammed, or maybe Abdul, will try to blow something up. But instead of a metal bird crashing down from the sky, look for a brownish 1989 Toyota SR5 pickup truck loaded with ammonium nitrate."
As further evidence that a terrorist strike may be imminent, Ridge said President Bush mentioned that in his most recent conversation with God, the Supreme Being seemed a little edgy but would not say why.
The fact that a faceless enemy may wipe us off the map at any moment does not conflict with President Bush's claim that he has made America safer, according to Ridge, who confided that Nostradamus also praised Bush for "the president's leadership in the war against terror."
Responding to skeptics, Ridge pointed out that Nostradamus correctly foretold the breakup of Jennifer Lopez and Ben Affleck, and rise of so-called "reality programming," which he called simply "mindless drivel." The terror czar hinted there might be some additional Nostradamus "chatter" containing dirt on John Kerry, but did not elaborate.
Critics counter that the visionary Frenchman failed to predict that President Bush would choke on a pretzel, fall off his bike (twice) and respond to the darkest hour of his administration by continuing to read "My Pet Goat" to a group of schoolchildren.

---
Hussein attorneys claim he's insane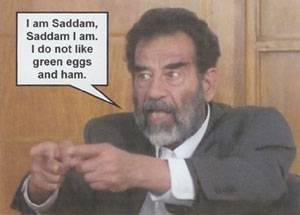 By John Breneman
Legal analysts say Saddam Hussein plans to fight charges of war crimes and genocide by pleading temporary insanity.
"I am Saddam Hussein, president of Iraq," said the disgraced ex-dictator, adding, "Saddam I am. I do not like green eggs and ham."
Hussein told an Iraqi judge that he is also a CIA hitman, a Mesopotamian deity and a porn star known by the stage name Dick Tater. The desperate Hussein also claimed he partied with Defense Secretary Donald Rumsfeld back in 1983-84.
Noted legal superstar Johnnie Cochran told Don Imus that he told Oprah that Hussein's insanity defense is bolstered by the fact that President Bush has called him a "madman" approximately 12,465 times since Sept. 1, 2001.
But White House spokesman Scott McClellan responded that Bush used the term "rhetorically," much like the words "grave and gathering threat," "weapons of mass destruction" and "links to al Qaeda."
McClellan reminded reporters that God had specifically instructed President Bush to take over Iraq and fulfill his destiny as a war president, even if it meant getting thousands of people killed.
Hussein defense attorney F. Lee Chalabi said his client has been a "nutjob" since 1988 when he accidentally inhaled some mustard gas while wiping out some infidels. His legal team estimates the American media has referred to Hussein as the "wacky Iraqi" an estimated 2.4 million times.
"This is all theater. The real criminal is Bush," a defiant Hussein told the judge while swatting away imaginary fruit flies and humming "U Can't Touch This" by M.C. Hammer.
"Hussein. Rhymes with 'insane'. Can you dig it?" concluded the wacky Iraqi madman.
---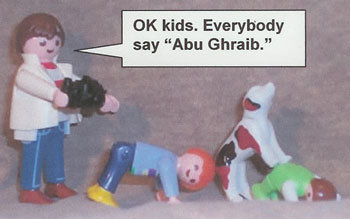 Bush butchered those pesky words "Abu Guh-reff" abu-again yesterday, this time in a press conference with the prime minister of Hungary. The transcript doesn't reflect it but Daily Show anchor Jon Stewart made hay with the embarassing video clip, which can be seen here.
Repeat after me: "Ah-Boo ... Guh-Reb." Or something like that.
---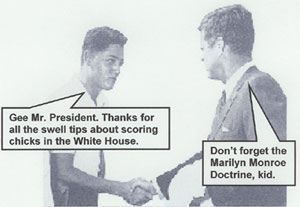 Clinton penned memoir with company ink
Bill Clinton writes that his dream of becoming president began during a fortuitous 1963 visit with John F. Kennedy, who told him the job was "great for nailing chicks."
As his biography, "My Life" hits bookstores today, Clinton said he failed to launch a more aggressive effort to capture Osama bin Laden in part because intelligence reports indicated the terrorist kingpin had virtually no access to "high-quality Arabian tail."
The book (subtitled "Wham Bam Thank You Ma'am") has already hit #1 on the Humor Gazette bestseller list. It is also #1 at Amazon.com despite protests that publisher Alfred A. Knopf raped an Amazon rainforest to print the hefty 957-page wad of Bill.
The New York Times called the work "skanky, auto-erotic and libido-crushingly dull," lamenting that the memoir contains no mention of Clinton's alleged Lincoln Bedroom gangbangs or his racy "Interns Gone Wild" videos.

I did not bang that pudgy, beret-wearing, DNA-stained-dress-saving ho, Miss Lewinsky.
Though the book is jam-packed with what top reviewers call "boring stuff," its pages are not completely unstained by seminal passages penned from the Great Fornicator's indelible dip into "company ink." Clinton does not defend his handling of the Lewinsky Missile Crisis.
Clinton characterized his antics with the White House intern as "morally indefensible," but "grammatically, linguistically and legally defensible." He claimed he "did not have relations with that woman, Miss Lewinsky" simply "because he could," and also because a devilish 3-inch-high JFK kept popping up on his shoulder quoting the Marilyn Monroe Doctrine to egg him on.
Clinton confesses that when he told Hillary about the non-affair she clubbed him with a Teflon frying pan. He also makes fresh accusations that special prosecutor Kenneth Starr screwed him on a Whitewater rafting expedition.
But perhaps most telling of all, the former president confides that when making key decisions he always listens more closely to his left nut than his more conservative right.
Related reading:
Maureen Dowd -- Because they could
Journalism.org -- The Cigar
Whitehouse.org - Miss Enron